Genuit Group Sustainability Director, Lee Adcock, provides his assessment the wide range of available products and projects that are steering the Group towards its fully sustainable future.
I have joined the Genuit Group after more than six years at British Steel, but as a native of Doncaster, I've always been aware of the businesses within the group. Now, as Sustainability Director my responsibility is to ensure the group is doing all it can to be the low carbon supplier of choice to the construction sector, and that we produce and provide solutions that can help to address climate challenge.
Discussions around sustainability in the construction sector can sometimes err towards future gazing, but during my short time in the role of Sustainability Director at Genuit Group I have seen so many examples, ideas and innovations in the products and systems we supply. The projects that are underway in every corner of the business give me the confidence that we are on the right path to reach our objectives, transforming the built environment and homes across the country as we go.
Swift bricks
For example, the technical team at Manthorpe Building Products were the focus of national news feature earlier in the summer, where their Swift Bricks innovation was the focus of a piece in The Guardian "Brick by Brick: the British manufacturers building a better future for birds"
These bricks, which provide a home for birds to nest have been developed in conjunction with the RSPB. They offer housebuilders a discreet way to encourage biodiversity, to protect the Swift species of birds, and are now being used at a fast-rising rate. Manthorpe's Swift Bricks are made from recycled plastic polymer and can be used by brick workers in the process of building house walls, providing a nest site for these migratory birds that will last the lifetime of the house, with next to no maintenance required.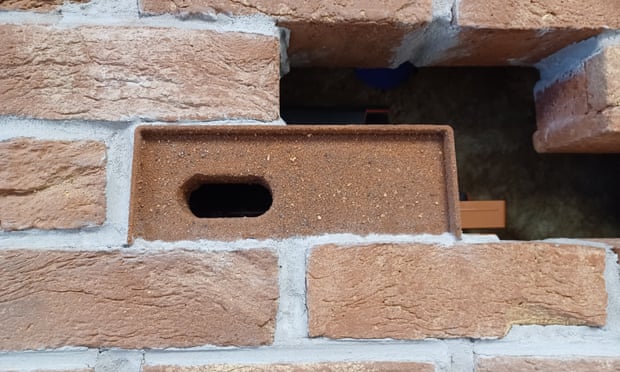 Ingenuity in sustainable systems
Companies across the Genuit Group have been responsible for a quiet revolution in how environmental challenges are approached.
The MagnaClean filter system from ADEY, which uses magnets to help maximise the efficiency of boilers has helped to reduce the carbon emissions and gas usage for homes across the UK for many years – an innovation that has not been matched by competitors in the sector. It is an issue that has been discussed recently in Parliament, with Siobhan Baillie MP advocating the benefits of sludge reduction in a House of Commons Debate on retrofitting homes for energy efficiency.
PLURA Polydeck , our manufacturer of civils and infrastructure products uses an incredible amount of recycled plastics – including single-use plastics – to produce some of the features that help us all enjoy our environment, such as wood effect footbridges, boardwalks and non-slip planks that can be found along countryside trails, to the furniture used on train station platforms.
Wash and Squash
Alongside the products, there are projects across the group that show the way to achieving our sustainability objectives. The 'Wash and Squash' initiative, which allows us to collect used plastic bottles to be recycled at the Horncastle Polymer Processing Plant has been in operation since 2022 but has already added to the 50,000 tonnes of plastic recycling processed there.
In a wider context, recycled materials form 48.7% of our polymer inputs, year to date, and Genuit Group remains the European leader in the sector for the use of recyclate. To increase this further we have a strong and active workstream focused on increasing our use of recycled materials and the group is investing in the necessary infrastructure and industrial partnership to unlock new opportunities.
Biodiesel trials bring remarkable results
At Aylesford, the group is looking at the results of a significant project which saw the 11-strong fleet of HGV vehicles used to transport Polypipe Building Services product from factory to site convert to the use of waste-based biodiesel and biofuels over existing fuel options.
By switching to biodiesel from fossil diesel a greater than 90% reduction in carbon emissions is possible. Furthermore, the biodiesel conversion is helping to keep maintenance costs low, adding to the lifespan of the vehicle.
Polypipe Building Services had already been making significant strides towards sustainable manufacturing with a £2.4m investment allowing for its range of Terrain PVC pipes to be manufactured using 65% recycled material, mainly comprising of old PVC windows which would otherwise be disposed of as waste.
These will be produced to British Standard EN1453 to ensure the same exacting Terrain strength and durability whilst facilitating the use of greater recycled content. Contractors and specifiers already know and trust our Terrain range which has been around for nearly 60 years, and they can now benefit from its enhanced sustainability credentials too.
Science Based Targets momentum
Finally, the work on the Group's Science-Based Targets began before I joined the group, and were approved in April of this year, but show the direction we are taking to reach the existing 2025 targets, adding further goals for 2027 which I'm, excited to be involved with and help achieve, and keeping the Group on the pathway to reaching Net Zero by 2050.
The most recent report from the Science Based Targets initiative (SBTi) shows that more than a third of the global economy by market capitalisation had set or committed to setting science-based targets by the end of 2022. In the UK 69% of FTSE companies had set science-based targets by the end of 2022.
I'm pleased to report that Genuit Group set a SBT ahead of many of our peers, and furthermore is the only UK based company to have done so amongst those making comparable products.
Genuit Group is proud to be part of this drive which is now gathering the crucial momentum needed to turn pledges into recognised action. All of the examples above, and many others I am seeing across the group are the tangible results of the group strategy, and a demonstration to others that sustainable growth and positive climate action is attainable and achievable.